Emmanuel,
Hanukkah is one of my favorite holidays! Being with family, giving and receiving gifts, the latkes (potato pancakes), and the jelly donuts all bring joy to my heart . . . and my belly.
But what does Hanukkah have to do with Jesus or Christianity? Great question! Read on . . .
The special holiday of Hanukkah commemorates an event that occurred in the second century BC, when Antiochus—a descendant of a great Greek general—ruled the land of Israel and demanded that the Jewish people stop worshiping their God. The Jewish people rebelled and—incredibly—drove out the Greco-Syrian army, though it was much stronger.
When the priests returned to the temple, they discovered something loathsome to the Jewish faith and the people. Watch this video to hear the whole story: What an amazing story to celebrate the faithfulness of our amazing God!
And now—the connection I promised to share between Hanukkah and Jesus—Hanukkah also reminds us that Jesus is the Light of the world.
In fact, it was during this holiday—which the Apostle John called the "Feast of Dedication"—that Jesus revealed His deity. While "walking in the temple in the portico," Jesus said, "I and the Father are one" (John 10:22, 30).
For believers in Jesus, Hanukkah looks at how God delivered not only Israel from a powerful army but also how Yeshua delivered us from sin and death!
Whether you celebrate Hanukkah or not, we hope this holiday encourages you in the faithfulness of our God!
In Messiah,
Dr. Mitch Glaser
P.S. Please feel free to show this video in your services this weekend and encourage your congregation! You can also forward this message to a friend by clicking here. I know they will be blessed!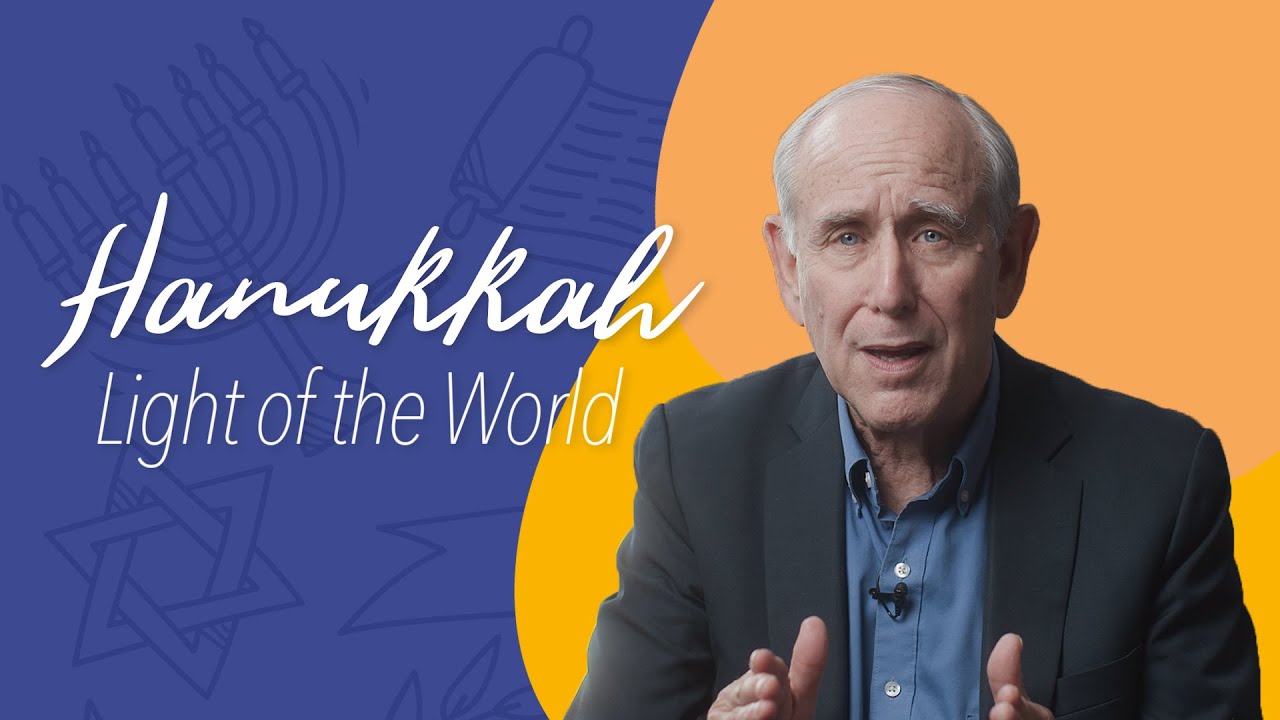 Are you ready to accept jesus today? or have questions? our pastor's are standing by! contact us! we are happy to assist.
If you use your mouth to say, "Jesus is Lord", and if you believe in your hearts, and so we are made right with God. And we use our mouths to say that we believe, and so we are saved.
A Living Sacrifice
12 Therefore, I urge you, brothers and sisters, in view of God's mercy, to offer your bodies as a living sacrifice, holy and pleasing to God—this is your true and proper worship. 2 Do not conform to the pattern of this world, but be transformed by the renewing of your mind. Then you will be able to test and approve what God's will is—His good, pleasing and perfect will.
Love in Action
9 Love must be sincere. Hate what is evil; cling to what is good. 10 Be devoted to one another in love. Honor one another above yourselves. 11 Never be lacking in zeal, but keep your spiritual fervor, serving the Lord. 12 Be joyful in hope, patient in affliction, faithful in prayer. 13 Share with the Lord's people who are in need. Practice hospitality.
Love the Lord your God with all your heart, all your soul, all your mind, and all your strength.
For God So Loved the World
John 3:16-21
16 "For God so loved the world, that He gave His only Son, that whoever believes in him should not perish but have eternal life. 17 For God did not send His Son into the world to condemn the world, but in order that the world might be saved through him. 18 Whoever believes in him is not condemned, but whoever does not believe is condemned already, because he has not believed in the Name of the only Son of God. 19 And this is the judgment: the light has come into the world, and people loved the darkness rather than the light because their works were evil. 20 For everyone who does wicked things hates the light and does not come to the light, lest his works should be exposed. 21 But whoever does what is true comes to the light, so that it may be clearly seen that his works have been carried out in God."
Dear Jesus
I am now aware that I need forgiveness
for living a life separate from You.
Please forgive me of all my sins.
I believe that you are God's holy Son
who died on the cross for my sins. 
Jesus, come into my life right now
and save me.
I believe that as of this very moment
that I am forgiven,
and that Jesus has saved me.
We welcome worshipping the Lord, Jesus Christ with you, below is a map of our location, see you soon!